---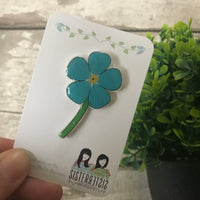 Brilliant....
Love the badges I got and the service was excellent.
Forget Me Not Pin
I adore everything about Forget Me Not flowers, their simple delicate flowers and their name.
This is the perfect pin to send to someone you are not able to see at the moment, it's just a simple message - Forget Me Not. I loved coming up with a simple illustration that would look good as an accessory to your outfit, but also an illustration that was instantly recognisable.
This pin is hand made from a non-toxic shrink plastic and coated in a clear resin and mounted onto a silver coloured brass butterfly clutch tie tack pin back.
The measurements are as follows; 470mm x 300mm approximately.
Because this is a handmade item, the sizes of each pin can vary slightly and the measurements are meant as a rough guide only.
Perfect gift for mothers day, Christmas Day, birthday or even as a gift for yourself.
Small bubbles may occur during the curing process and this is part of the hand made process and is not a fault.
Not suitable for children under 3 years old due to sharp and small pieces. 
When not wearing please store away from sunlight